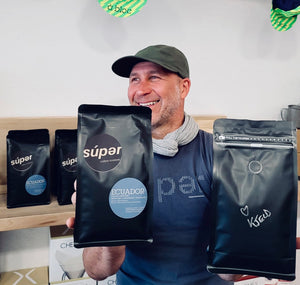 Coffee
---
WE ARE SÚPER COFFEE ROASTERS
THE SÚPER ESPRESSO BAR
A HEIGHTENED SPECIALTY COFFEE EXPERIENCE
-
WHEN?
THU - SAT 8am - 2pm
-
WHERE?
WTRSHD BLDG - 429 1st Street, Studio Petaluma CA 94952
Working with the highest calibre, responsibly sourced and farmed beans we micro-batch roast in California with passion, love and expertise to ensure that we're always producing the highest quality cup of coffee and the biggest smiles.
-
Súper Coffee Beans available at the SÚPER ESPRESSO BAR, via subscription, roasted to order at our Northern California Studio.
-
Súper Accessories and Merchandise Available via our Online Store
-
Check in with us weekly for our current roast offerings.

Please contact us for Subscription, Roast to Order,  Wholesale Accounts and Collaborations.
We love to connect!
---